Natural dried oranges: a beautiful and tasty treat.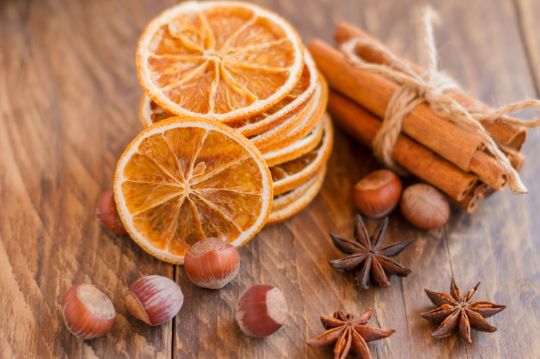 Natural dried oranges: a beautiful and tasty treat.
The golden fragrant sun will garnish any festive table. It can also be used to decorate premises, gifts, bouquets, Christmas wreaths and Christmas trees. Yes, this is all about desiccated orange - a treat made according to a simple and healthy recipe.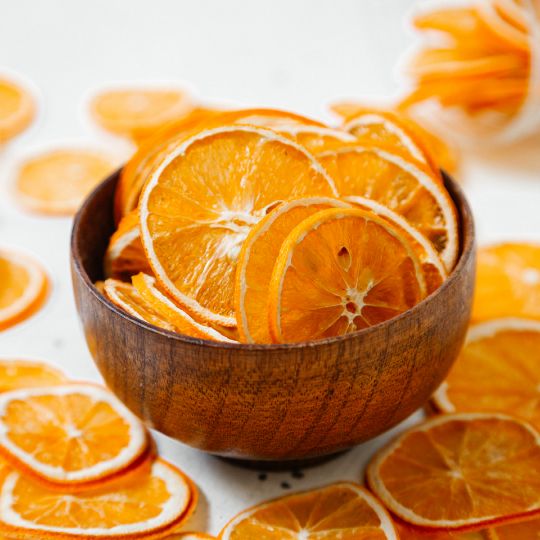 Dried orange slices
The name of the fruit (or berry?) It is a tracing of the French "pomme de Chine" - an apple from China. Now, of course, the word "orange" is more popular. The etymology of the word and its derivatives is as interesting as the culture itself and its history. But we will focus on the beneficial properties of the product.
The first thing we see is its attractiveness: a bright orange shell as if calls to come closer, to touch it. And having touched, it is impossible to put it back, because it is in it, the orange peel, that essential oils are contained. Thanks to them, the bright fruitage becomes such a welcome element of the holiday! Even in countries where it does not grow.

Having removed a rather thick skin, we get to the juicy pulp, the benefits of which cannot be overestimated. Regular consumption of it:

strengthens the immune system,
has a beneficial effect on the condition of the skin, hair, nails,
helps to cleanse the body of toxins,
helps to stay active.
Fruit and extracts from it - one of the ingredients of medicines, cosmetics.
The tree itself is also useful if it is placed in rooms, offices. The phytoncides secreted by it destroy pathogenic bacteria, purify the air.
Dried and sun-dried citrus rings are a healthy substitute for high-calorie tea biscuits. They, like fresh fruit, are full of vitamins: C, groups B, A, E; trace elements: potassium, calcium, phosphorus, magnesium; fatty acids. Whereas cholesterol is completely absent.
Dried rings are also popular in winter, when the sun's warmth is highly desired !!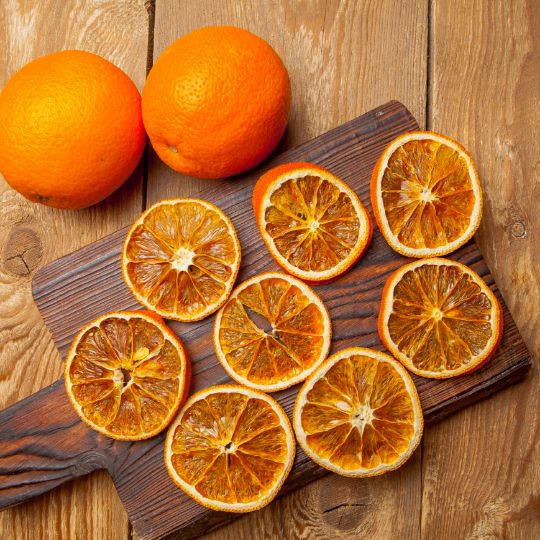 … Purchasing dried orange
Just imagine how useful desiccated orange is and what you can make of it: juices, preserves, candied fruits, marmalade, slices, rings, jams, desserts, salads, jellies, pastries, add as a fragrant ingredient to drinks ... The price of delicacies is low, and the pleasure and benefits are indisputable.
Where to buy dried orange fruitage:

dried slices, chips and other delicious goods are sold on the shelves of large supermarkets and specialized shops;
Internet sites are full of ads, especially on the eve of the Christmas holidays;
oddly enough, but you can buy a beautiful desiccated fruit on sites selling decorative materials for creativity: scrapbooking, floristry;
On the eve of the holidays, look for treats at specialized fairs. Most likely, the search will be crowned with success.
The price of the product is not high, but still higher than that of fresh fruitage.
Where do the sweetest fruits come from? Despite the fact that their homeland is China, those that are grown on the Mediterranean coast have the best taste. They also make aromatic slices in sugar, caramelized or sun-dried rings, crisps, and many other goodies. To produce them in an amount of 1 kilogram, several kilograms of fresh fruits are required. For example, desiccated products lose 75-80% moisture, which means they become much lighter. Dry ones are quite airy.
Considering the transportation and delivery of the finished product and other related costs, it becomes clear where this price comes from. But isn't the holiday mood worth it?
If you can't buy it, or it's very expensive, you can make desiccated fruits yourself, just choose ripe, bright ones.