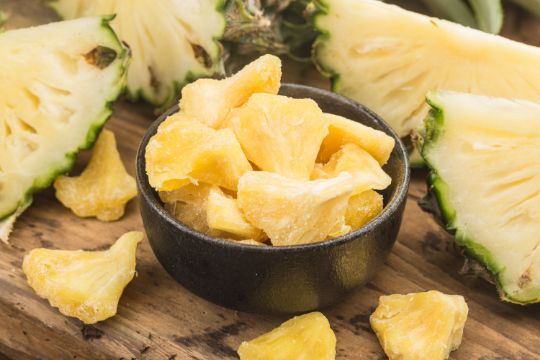 Personally, we do not know people who would not love this amazing exotic fruit! Fresh, canned, dried pineapple and dishes made out of it are a real delight.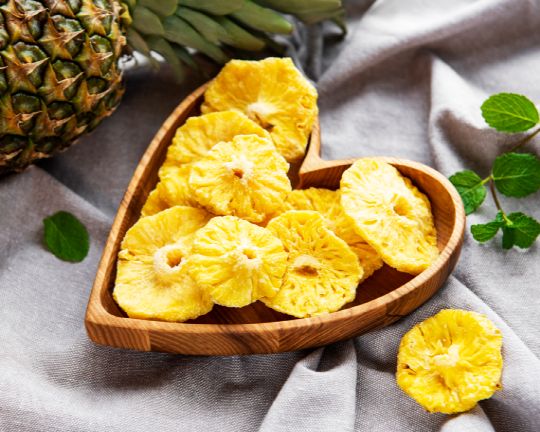 Dried Pineapple on its own
Pineapple is a unique plant. For example: do you know how and where its fruitage grow? Why is it covered with scales? Where do the holes in a canned delicacy come from? Don't be upset! Until we got carried away with this wonderful fruit, we did not know anything about it ourselves. But now we are ready to share a lot of amazing facts.

 It is a herbaceous plant. The fruit stem emerges from the middle of the plant, and you get one pineapple per plant, reaching a weight of about 2 kg. It is very similar to how cauliflower grows.
 The largest producing countries are the USA (Hawaii), South African, Asian (tropical) regions, Australia, and the homeland is Brazil.
 Scales the fruit has been due to inflorescence, and therefore it looks weird. You should have seen how beautifully it blooms!
Let's deal with useful properties:
vitamins: C (the concentration is greater than in lemon), A, niacin, E, K, PP;
macroelements: potassium, calcium, silicon, magnesium, sulfur, chlorine, phosphorus, sodium;
about 20 microelements;
mono- and disaccharides;
saturated fatty acids;
Omega-3, Omega-6.
100 g of the edible part of the fruit contains:
proteins - 0.3 g;
fat - 0.1 g;
carbohydrates - 11.8 g;
water - 85.5 g;
fibers - 1 g;
energy value - about 50 Kcal.
Such a composition improves metabolism, invigorates, is useful for heart diseases, kidneys, hypertension, blood (thrombosis, thrombophlebitis), and colds. Promotes better metabolism, hence maintaining a stable weight.
All beneficial qualities, except minor changes, are retained in the dried ones. To be more precise: the water goes away, the amount of proteins and fats increases. The concentration of minerals also greatly increases. The calorie content reaches 280 Kcal per 100 grams, which is about 5-6 times higher than fresh.
Desiccated pineapples are sweet and sour. The sugar content in 100 grams is approximately as follows:
sucrose - 5.5;
fructose - 2.5;
glucose - 2.
Despite these figures, pineapple remains a dietary product.
Desiccated fruits (any) are much more expensive due to the loss of fluid during the preparation process. This means that much more raw materials are needed for production.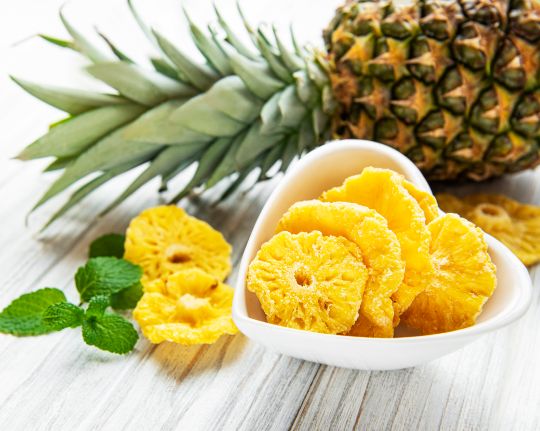 Sugar Free Dried Pineapple Recipe
The aromatic delicacy can be bought or made at home.
Here's a simple recipe, just be patient!
Choose ripe fruit for cooking.
Cut off the top (thicker) and the bottom. Peel by cutting it off with a knife.
If you need an additive for a tea, porridge - cut into cubes, for meat or as an independent delicacy - cut into thin circles. The thinner the cut, the easier it is to achieve perfect results.
The natural product is obtained by natural drying in the sun.
Put the blanks on a surface covered with natural fabric, yet cover on top with cheesecloth to avoid contact with insects. Pineapple is extremely sweet by itself, but If you fancy a sweeter delicacy, make a syrup-like solution of water and honey. The best way to do so without overheating the honey is to make a water bath set on the lowest heat. As soon as the heating temperature approaches 40° C degrees, remove from heat immediately. Hold the slices in it for some time.
Dry until moisture completely disappears at a temperature over + 30° C. But if humidity is high and it's raining outside, then it is better to use an electric dryer or oven.

If you try to make candied fruits, dried pineapple - you will get a few natural healthy delicacies as a result.